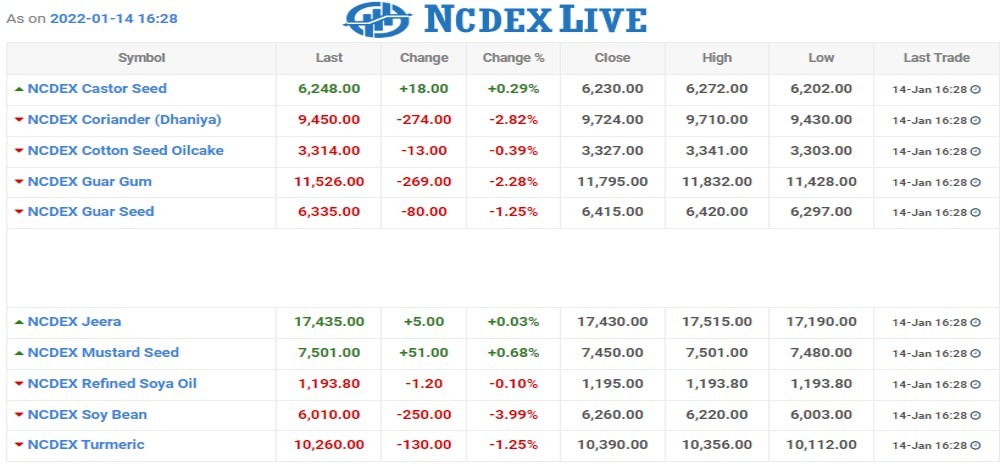 To reign in rising food inflation, the Securities and Exchange Board of India (Sebi) has barred exchanges from launching new futures contracts in seven food items for one year with immediate effect.
The commodities are paddy (non-basmati), wheat, chana, mustard seeds and their derivatives, soybean and its derivatives, crude palm oil, and moong.
In one of the biggest crackdowns on commodity derivative futures since trading was opened in 2003, the regulator said that no new contracts will be allowed in the seven commodities. As to their running contracts, no new position will be allowed to be taken; only squaring off will be allowed.
In a related development, the Centre has extended the permission for free import of refined palm oil until December 31, 2022. Earlier, the provision was allowed until December 31, 2021.
India's retail inflation rate rose to a three-month high of 4.91 per cent in November from 4.48 per cent in the previous month, driven largely by the rise in food inflation to 1.87 per cent from 0.85 per cent, despite the Centre and states reducing taxes on petrol and diesel.
Trade sources said that in the case of paddy (non-basmati), wheat and moong, though there were products available on the exchanges, they attracted very little volumes. As to mustard seed and chana, taking fresh positions had already been suspended in August.
The maximum impact of the decision is expected to be on the soybean complex and crude palm oil. The combined average daily turnover of refined soy oil, soybeans, rapeseed and chickpeas on the NCDEX was 12.7 billion rupees ($167 million) so far in 2021, exchange data showed.
Crude palm oil clocked an average volume of around Rs 200 crore daily on the Multi Commodity Exchange.
At close on Monday, soybean seed January futures were 4 per cent down from the previous close at the NCDEX, while February futures were 2.36 per cent down from the previous close.
At close, soybean seed January futures were 4 per cent down from the previous close, while February futures were 2.36 per cent down from the previous close. In the case of soy oil, the January futures were 1.76 per cent down from the previous close, while February futures was up 0.09 per cent.
"This seems to be a knee-jerk reaction by the government and driven solely by inflation concerns. The Centre has tried all sorts of measures to control edible oil prices including bringing duties to zero, and this (banning futures) seems to be the last bullet in their trigger," said Atul Chaturvedi, president of the Solvent Extractors Association of India, a body of oilseed extractors and refiners.
Chaturvedi said the ban is expected to be lifted by March when the next mustard crop starts hitting the market and prices cool down.
"Monday's measure makes it tough for importers and traders of edible oils to do business as they extensively use domestic exchanges to hedge their risk," said Sandeep Bajoria, chief executive of edible oil broker and consultancy Sunvin Group, according to Reuters.
The poultry industry has been demanding a curb on futures trading in soy seed, along with an extension of the import deadline for soymeal, as it was hurting its margins. Soymeal is a key constituent of poultry feed meal and its rates are directly connected to soybean prices because seed has more than 80 per cent meal and 18 per cent oil content in them.
Production of soybean, according to the first advance estimate of the 2021-22 kharif crop released by the agriculture ministry, is expected to be 12.72 million tonnes – marginally lower than the 12.89 million tonnes produced last year.
For chana, wheat and mustard seed, production is still to be ascertained as the 2021-22 rabi sowing is still on.
But the latest data from the ministry showed that in the case of wheat, rabi crops have been sown in around 27.77 million hectares till December 17, which was just around 0.87 per cent less than last year, while chana has been sown in around 9.79 million hectares which has been 1.43 per cent more than the area covered during the same period last year.
The maximum area increase has been in mustard seed because farmers, encouraged by high prices, have sown mustard crops in around 8.42 million hectares until December 17 – that's 24 per cent more than last year.
Trade sources said that if the weather remains benign in the coming weeks, India is on course to harvest a bumper 11 million tonnes of mustard in 2021-22, up from 8.5 million tonnes in 2020-21 year.